A Tribute to Dr. Joseph Albert Brown
18 November 1946 – 04 September 2005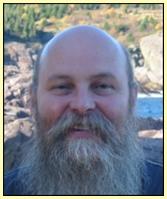 a man with a smile, remembered with a smile
To their shock, many Canadians interested in fish learned of Joe's sudden death at home on Shoe Cove, Newfoundland on Sunday, 04 September 2005.
Joe was born in Philadelphia and raised in Maine and apparently as a happy little boy, he spent time in a cowboy outfit lassoing roosters, a sign of things to come. Joe enrolled in St. Francis Xavier University in 1964, graduating in 1968 with a BSc. Joe then served two years in the US Armed Forces via the Vietnam War draft and although an expert marksman he fortunately caught pneumonia and served in Germany as a Finance Clerk, proving only that the pen is mightier than the sword. The G.I. Bill helped Joe on to graduate school at Memorial University completing an MSc with John Green working on Arctic shanny. Next was his life-partner, Faye Murrin, Newfoundland dogs, organic gardening, all things fishy, travelling the United States of America and Canada, farming in Nova Scotia, a museum curator and lab instructor - all while Faye completed her graduate work. Then Joe completed a doctoral degree in Biology at Queens University (1978-1983) with Patrick Colgan, combining lab and field studies on fish behaviour. Next was a post-doc at Queens with Dr. Peter Johansen. Apparently it was at this time that the Lake Opinicon field station held the first "Joe Brown Look-Alike Contest" - a tradition which has, inexplicably, continued to this day. May it last forever.
In 1984 Joe was hired on at Memorial's Ocean Sciences Centre where over the years he attracted an unbelievable number of students whom he mentored with serious science, silly humour and much beer. His commitment to students was unprecedented. As a man of the fishes, and as an avid participant in the CCFFR, Joe's scientific legacy is substantial. He became President of the Aquaculture Association of Canada, Chair of the Ecological and Behaviour Section, Canadian Society of Zoology, participated on numerous review boards, panels and committees. He served on over fifty national, regional, provincial and academic organizations. He and his colleagues worked on over fifty funded research projects and he authored and co-authored more than one hundred and thirty papers, book chapters, refereed and non-refereed proceedings.
While Joe worked hard, he always combined work with a sociability that was legendary. An American by birth, a true Newfoundlander at heart, and apparently helped along by George Dubya, Joe became a Canadian citizen on 15 February 2005.
As a most approachable and recognizable figure in his field, Joe will be sorely missed.
(much text liberally extracted from the text prepared for the Celebration of Joe's Life)
To continue Joe's legacy, the Dr. Joe Brown Scholarship has been established. Tax-deductible donations can be sent to the Dr. Joseph Brown Scholarship Fund Memorial University of Newfoundland (specify other: Dr. Joseph Brown Scholarship Fund). Dr. Joe Brown Scholarship Fund, Memorial University of Newfoundland, St. John's, NL., A1C 5S7. On line donations can be made at www5.mun.ca/dir/viking.gv020.p001 (taken from www.mun.ca and following the links to "Alumni Affairs" and "Ways to Donate"). In the information box, state "Dr. Joe Brown Scholarship" and give your name and address to expedite the receipt for tax purposes.
Send messages of condolence or sign the memorial book at www.carnells.com.