The Canadian Conference for Fisheries Research has been meeting annually for over 50 years now and continues to meet once a year in early January in concert with the Society of Canadian Limnologists (SCL). The conference is a forum where researchers and graduate students can present and discuss the latest advances in freshwater and marine fisheries research.
Each year a strong programme is prepared and includes several invited speakers and presentations in the joint CCFFR & SCL session by the J.C. Stevenson Memorial Lecturer (CCFFR) and the Frank Rigler Memorial Lecturer (SCL). In keeping with tradition, a keynote speaker is normally on hand to provide the latest insights in any number of areas important to Canadian aquatic sciences. The banquet is held jointly with SCL and is a good opportunity for members of both groups to interact.
The overall programme themes vary from year to year but generally focus on aquatic and fisheries science advances and the ability of new research to provide predictions and solutions for fisheries problems. Presentations are encouraged to reflect bold, imaginative, and credible science. Papers are expected from individual and team research initiatives among the academic, government and private sectors.
CCFFR opens with a registration mixer the on the evening immediately preceeding the start of the conference and continues with 2 and-a-half days of oral presentations, poster sessions, informal discussions and events. Graduate students are encouraged to attend and present their research findings and can apply for financial support from the Travel Fund; Clemens-Rigler Caisse de voyage and are especially encouraged to do so.
Subscribe to list or post a message

General Information

Themes and Programme Officers

Call for Papers

Registration

Venue, Hotel Reservation & Area Maps

Stevenson Lecture

Programme

Abstract and Presentation List

Information for Oral & Poster presentation

Event sponsors

Clemens-Rigler Graduate Student Travel Fund

Society of Canadian Limnologist SCL

History of CCFFR

History of Clemens-Rigler Travel Fund

2004 Programme (complete)

2003 Programme (complete)

2002 Programme (complete)

2001 Programme (complete)

2000 Programme (complete)

1999 Progr., Abstr.,Post.

1998 Programme

1997 Programme

Business 2003, 2002, 2001, 2000, 1999,1998, 1997

Treasury 2003, 2002, 1998, 1997

Clemens-Rigler Award 1997

Themes and Chairs 1948+

Dates & Locations 1948+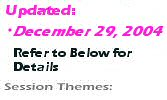 Issues in Great Lakes Water Quality and Fisheries (Joint SCL/CCFFR Theme)
Genetic approaches to conservation and management
Fisheries policy and the protection of native fishes
Aquatic species at risk research
Adaptive management of aquatic resources
Food webs and fisheries
Exploring the reality of adaptation of fisheries and aquatic resources to climate variation and change in the Great Lakes Ecosystem (CCFFR session and subsequent symposium)
Contaminants and bioenergetics in aquatic ecosystems
Aquatic Invasive Species (Joint SCL/CCFFR)
Special session: "Recognizing Bill Beamish" (speakers by invitation)
Society of Canadian Limnologists (SCL) sessions (contact SCL)
Contributed papers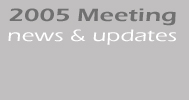 December 29, 2004
Final Programe
Abstracts now available
Sponsors
December 28, 2004
Updated Abstract and Presentation List
December 21, 2004
Updated version of Meeting Program
Sponsors
Information will be posted as it becomes available.